On Tuesday 5th April  the long awaited opening of the pantry@brag's dedicated pantry space finally took place. This newly refurbished space will be shared with Benarty Foodbank and was kindly opened by John Bayne, from Bayne's the family bakers. After many delays due to illness, government restrictions and other hold ups the team were delighted with the new space which now houses food storage, a shopping area for members and a new members café.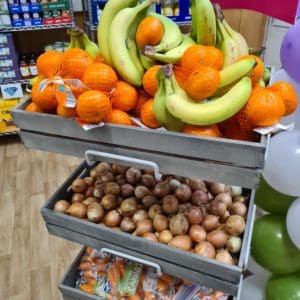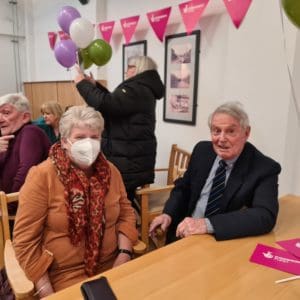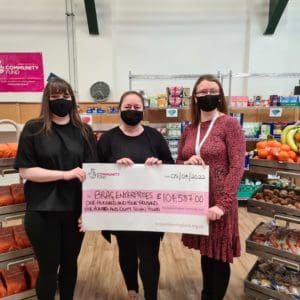 Brag's co-founder and Honorary President Joe Paterson welcomed everyone attending and explained that; "In the past 2 years the pantry@brag has diverted over 23,500KG of food from landfill and had used this to feed the local community instead, provided food and supported to over 11,312 Individuals supplying over 59,000 meals." He added;" Over 6,000 volunteer hours have gone into the Pantry in the last 2 years as well as staff time."  Before then going on to pay homage to the support of other community organisations and businesses who had helped. From the pantry's beginnings as an emergency response to the COVID 19 Pandemic the pantry had grown to over 100 regular members. Joe also praised Bayne's as a local business for keeping their staff employed and not closing the smaller branches as many other businesses had needed to do.
John Bayne then said a few words himself saying; "it's great to be able to support this fantastic charity who do so much for the community." He then cut the ribbon marking the official opening. Brag's MD Brian Robertson-Fern thanked John for performing the opening and for the continued support of Bayne's to the pantry since its inception in 2020. He joked "I suspect many of our members only come for the Bayne's rolls every week." Brian went on to thank all of the funders of the initiative including: The National Lottery – Communities Fund being the largest, The Coalfields Regeneration Trust,  Benarty Forum, Scottish Government Covid 19 Recovery Fund, Foundation Scotland – Response, Recover & Resilience Funding as well as, Fife Council – Food Insecurity Funding with the pantry also benefiting from recent funding from Centrica.
Brian also gave a vote of thanks to the many local businesses who have helped with the pantry making the Benarty community feel like one big supportive family. These businesses were named as: MaryAnne's Kitchen, The Muffin Man, Morrisons Supermarket Cowdenbeath, Nisa  Ballingry, Co-op Lochore, Aldi – Cowdenbeath, Benarty Carpets, Re-Employ, Oliver's Army, Debbie Doyle, Dunfermline (Benarty) Foodbank, Dears Pharmacy Lochore, Canmore Dental Practice, Lochgelly, Starks the Butchers, and Benarty Food Angels. After thanking the pantry volunteers and the pantry team Lorraine and Jade, Brian revealed the name of the new café stating;"We would also like to take this opportunity to launch our new Coffee shop at the Pantry@Brag which will now be called 'The Mary Pit Stop', in keeping with our local mining heritage!"
Pantry membership gives individuals access to affordable food and costs just £3 per week for 10 items (£4 with delivery) and is only available to residents of the Benarty area. The pantry@brag is open for members to drop in on Thursdays between 1 and 3pm with deliveries then taking place on Fridays for those who may be housebound. Members will also now be able to benefit from energy advice and support now thanks to the recent new funding from Centrica and delivered in partnership with Greener Kirkcaldy, these sessions will begin over the next few weeks.