Photo credit Alwen Cakes
It started with a tweet from Keith Brown MSP who visited the cake shop in June during refugee week. Keith took some cakes for Nicola Sturgeon to try and when she visited last week she told Muhanad and his colleague Foarud that they were so good that she just had to come and visit.
Here is the original tweet to Nicola Sturgeon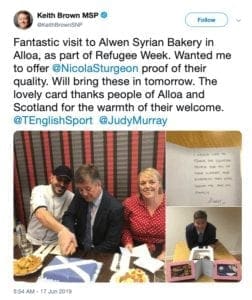 Muhanad Alwen was one of our New Enterprise Allowance Clients from Alloa. The scheme helps unemployed people who would like to become self-employed. The Syrian refugee had a bakery in Syria some years ago and this is where he lived with his family. He lost his home and business in war torn Syria, everything he had worked so hard for gone, in a matter of minutes. Fleeing for safety, He and his family were placed in a refugee camp like so many others awaiting their fate.
Some time later the family came to Scotland, along with another 21 refugee families settling in the Alloa area. Clackmananshire council helped with securing housing for the families and due to the language barrier gave them access to an interpreter. They were very supportive to the families yet still there was a problem, employment was very difficult to come by with very little English and Muhanad found himself volunteering to gain experience.
He decided that he wanted to do what he had successfully done before, open a bakery but the family had literally nothing. War had cost them all that they had owned and to open a bakery shop he would need capital. He came to see a Brag Enterprises advisor who told him of the various channels of help available to him, also attending the job centre with him to ensure he had the support he needed. With the help of a charity who help refugees with capital to fund their business Alwen Cakes was born.
Find them on facebook, you can see the rest of the photos there.
Check out those amazing Birthday Cakes!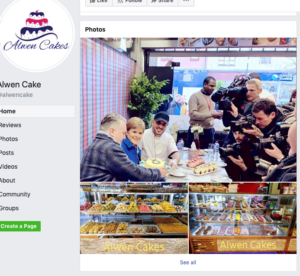 To find out more about New Enterprise Allowance click here