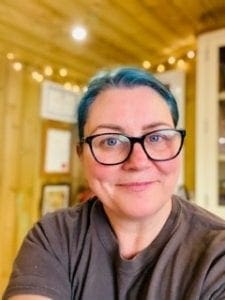 Wyrd Thistle are a new tenant at our Levenmouth Community Enterprise Centre in Methil. Lizzy is a Holistic Therapist – holistic meaning whole as in the whole person and therapy covering everything from aromatherapy to advanced clinical massage.
Lizzy has been a therapist for a number of years and had a successful business in Flitwick Bedfordshire as Thistle Me This, returning home to Fife as her son has been offered a place in Fife college. Lizzy  specialises in treating pain, chronic and on going using a fusion of techniques such as Myofascial release, trigger point, still work, manipulation, movements and stretching. She can help with scars, long term conditions like frozen shoulder, fibromyalgia, EDS, stress, heachaces back pain, leg pain and more. Lizzy's clients have consisted of , train drivers, therapists, office workers, mums, dads, painters, teachers, Directors, nurses, police officers, students, vets and lots more. Lizzy is also a fully qualified reflexologist and a Reiki and Shamanic practitioner and has continued to update her training , learning new techniques to give the best service She can to her clients. Tools Lizzy uses are hot stones, cold stones, bamboo, crystals, massage wax including vegan massage wax. Lizzy treats the person not just the pain, so everything is tailored to you. As part of your therapy and in addition to the consultation which takes place online or over the phone, and the therapy its self, you also get followup care and advice which will consist of movements, exercises or stretches specific to you.
Lizzy told us:"I am a great believer in supporting other small businesses and in being sustainable, I try to ensure to use local organic products. many of which are vegan, I use reusable materials too, protecting the environment as much as possible. I was so relieved to find Brag Enterprises and so happy with my room which overlooks the harbour. I love what Brag stand for and I am looking forward to helping any way I can with this amazing supportive organisation."
Wyrd Thistle is opening on the 21st June for clients however, Lizzy is taking pre bookings now.
You can contact her by:
Email: [email protected]
Call :07927 500420