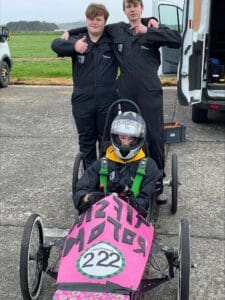 Over the last year, in partnership with BRAG Enterprises, Leviton Engineering and Youth 1st, the Fife Council's Safer Communities Youth Justice Team have provided the opportunity for young people that attend  to participate in building a F24 kit car and then competing in a race meeting at East Fortune Airfield as part of the Greenpower F24 competition.
Leviton Enginering have partnered with Auchmuty High School in providing tools, parts and practical support, they have committed to creating a workspace for future groups to participate in the F24 project.
This initiative was aimed at pupils that weren't engaging in education however they relished this opportunity for an alternative learning program, and they displayed fantastic initiative, practical skills, problem solving and team working. The pupils were supported to develop the kit car from design to fabrication and then testing, as well as this, they also had to produce a portfolio of their work. Youth 1st supported the young people's learning with facilitating STEM activities, which has enabled the young people to also achieve a Youth Achievement Award. This enabled them to overcome design problems, technical issues with the motor and participate in the competition in East Fortune.
The race took place on the 3rd May and competition was fierce, with other teams having already competed in previous events. However the team done well, coming in a respectable 8th in race 1 an