We are proud to announce that our purchase of Thomson House in Methil is now finally complete. The building is now known as the Levenmouth Community Enterprise Centre and has an aim to provide affordable office space to fledgling businesses in the area. This new investment commits Brag Enterprises to a long term future within the area, where we look to assist the people of Levenmouth to become all that they can be. Our wish is that everyone in the area can now benefit from some of the great new investments coming there way with Brag doing all it can to support that ongoing positive journey. As one of Fifes leading social enterprises we are proud of our 30 year history  and this for us is very much the next logical step. 
Our part is very small but is yet another piece of the jigsaw that will return the Levenmouth area to a more positive and prosperous future. Newly refurbished start up business space at the centre has already become a home to many small local enterprises and we hope to be able to see them become the backbone of local entrepreneurship in the future. Our own employability programmes along with the Levenmouth Together markets and events are also now a regular attraction and we have much more planned for 2021. Our innovative Square Start Families project has also made a real difference in supporting family isolation and we can assure you that we are only just getting started.
We have many people to thank but would say that our primary thanks goes out to Fife Council for their continued support and to the Bank of Scotland who offered us the loan funding during these difficult times.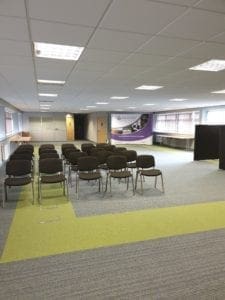 Although a number of the rooms have already been let we still have the space you may need for your next business. If your interested please get in touch as we offer free tours of the site