Dave Law works in the music industry selling musical instruments business to business in his day job on a part time basis. In his own time Dave runs The Music Cable Company which has been running since August 2021 making very high quality custom made audio cable for electric guitars, amplifiers and sound desks. Based at Brag's Crosshill site. The bespoke cables are made to order and carry an impressive 5 year guarantee although Dave did admit that he would still offer an after care option out with that guarantee period. His Clients range from music enthusiasts to Musicians and recording studios who rely on a good quality sound from their equipment.
Dave's website is currently under construction but this will be an ecommerce website that customers can customize their order through various options before finalizing their order. Dave has also begun looking at storage solutions for cables to ensure they remain in good working order for as long as possible.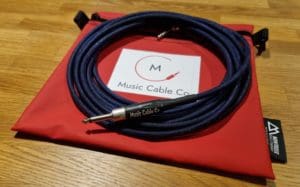 Dave prides himself in sourcing the best quality components to manufacture his cables ensuring the best possible sound. Dave decided to rent business space from Brag for the location primarily, as it is close to his home and secondly it is affordable. Dave said he was initially looking for a smaller unit but he loves the fact that he has a reception area, his computer workstation as well as a manufacturing area in his unit.
The web address is www.themusiccablecompany.com 
You can find the music cable company on facebook here.